Director's Statement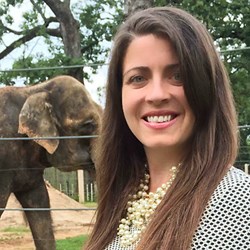 Your Zoo provides an inspirational, educational experience that grows a passion for animals and a respect for all living things. That's why we are accredited by the Association of Zoos and Aquariums (AZA) and participate in important conservation programs. The Little Rock Zoo is located in the heart of central Arkansas in War Memorial Park and we take heart in caring for the more than 500 animals that live here.
Our staff also take pride in supporting important conservation projects that save animals locally and abroad and you can, too. The Little Rock Zoo supports AZA SAFE (Saving Animals From Extinction) programs as well as other conservation initiatives that have a direct impact on the lives of animals. We know that it is our responsibility to also care about animals beyond our acreage and we work diligently to ensure a future for wild places and the many wild things in our world.
The Little Rock Zoo is an important part of our community and has been since 1926 when it started with an abandoned timber wolf and a circus trained bear. We are one of the largest family destinations in Arkansas and an important place for conservation learning. We invite you fall in love with our animals and grow a passion for conservation. Fall in love with your Little Rock Zoo.
Love,


Susan Altrui, Director 

1 Zoo Drive, Little Rock, Arkansas, 72205
501.661.7200
1 Zoo Drive
Little Rock, AR 72205
501-661-7200
Hours of Operation
9 a.m. to 4:00 p.m.
Last admission 4 p.m.
Zoo grounds close at 4:30 pm
Stay Informed!
Enewsletter Sign-Up
Sign up to stay up-to-date on the latest zoo news, upcoming events and deals.