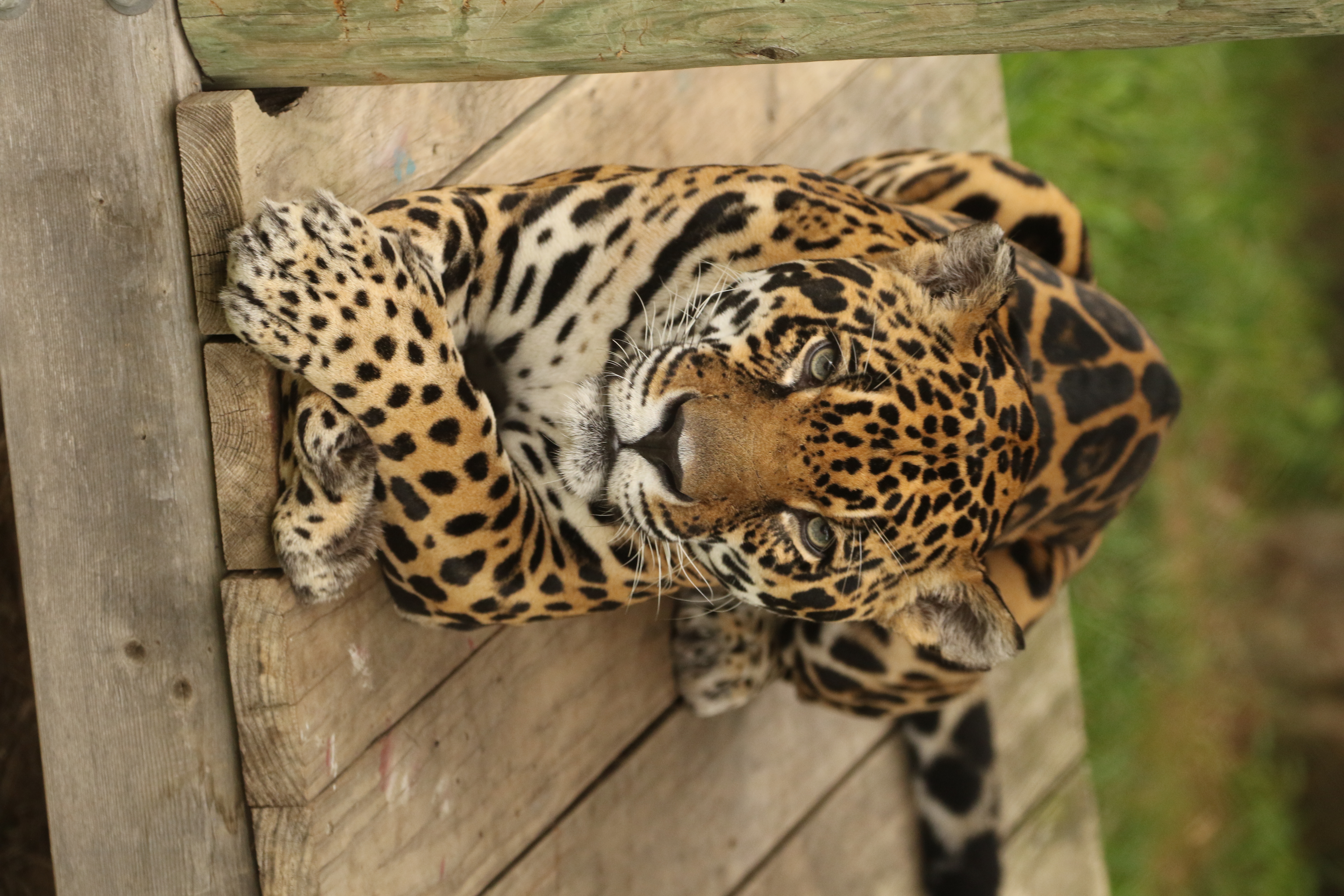 Zoo Saddened at Loss of Male Jaguar, Malcolm
Friday, May 07, 2021
LITTLE ROCK (May 7, 2021) – The Little Rock Zoo is sad to announce the passing of its male jaguar, Malcolm, who died April 27, 2021.  Malcolm was 18-years-old and one of two jaguars living at the Little Rock Zoo. He will be greatly missed by Zoo staff and guests.
Malcolm was being treated for a variety of medical issues since early this year. Tests revealed a fungal infection that can cause sneezing, coughing, seizures and abnormal behavior. Malcom had caused a self-inflicted wound on his tail which resulted in veterinary staff removing part of it. Malcolm was treated for the infection and monitored closely by Zoo staff.
After continued monitoring and treatment, Malcom's health continued to deteriorate. He was becoming increasingly lethargic and his mobility was diminishing. It was determined that humane euthanasia was the best course of action.
A part of the family at the Zoo for the last three-and-a-half years, Malcolm came to the Little Rock Zoo from Omaha's Henry Doorly Zoo in Nebraska. At his age of 18-years-old, Malcolm had reached the median life expectancy for jaguars living in a zoo accredited by the Association of Zoos and Aquariums. He will be missed by his companion, Cactus Jack. 
One of his keepers, Maggie Quinn Raglin shared, "[Even though] Malcom was only [with us] for a short time…he quickly developed a large following among his keepers and was an absolute joy to work with. He had such a way of drawing people in with his curiosity and intensity. The best part of working around Malcom was his trust in us. …That [earned] trust made our relationship with Malcom so special. He was amazing and we were so lucky to get to work with him. Raglin added, "He was a beautiful ambassador for his species."


Sarah Gerke commented on Malcolm by saying, "Malcom was an absolute joy to work with! He could easily brighten your day with his enthusiasm and fun personality. One of my favorite memories is [when] one morning we were letting him out on his exhibit and he looked outside then he walked over and grabbed one of the toys he had inside and took it out on exhibit [with him].  He just decided the toys on exhibit were obviously not as good as that toy!"
When remembered by another one of his keepers, Kate Neal said, "When Malcolm moved to Little Rock, he was already 15.  It is not always easy for older animals to adjust to a new living situation, but Malcom flourished at The Little Rock Zoo. His favorite things were his white box toy, training sessions with keepers, bones, and naps in the sun. I am honored to have worked with such an exceptional cat and he will always hold a special place in my heart. I am also incredibly proud to be part of a team who worked so hard to make The Little Rock Zoo Malcom's home."
To learn more about Malcolm, please contact jmatlock@littlerock.gov
About the Zoo
The Little Rock Zoo is accredited by the Association of Zoos and Aquariums.  Look for the AZA logo whenever you visit a zoo or aquarium as your assurance that you are supporting a facility dedicated to providing excellent care for animals, a great experience for you and a better future for all living things.  With its more than 200 accredited members, AZA is a leader in global wildlife conservation and your link to helping animals in their native habitats.  For more information, visit www.aza.org.
Stay Informed!
Enewsletter Sign-Up
Sign up to stay up-to-date on the latest zoo news, upcoming events and deals.