Dates:
12/31/2022
- 12/31/2022
Price:
$17 for Zoo members; $20 for general public
Ring in a bright and beautiful 2023 at the wildest venue in town, the Little Rock Zoo! Enjoy the evening walking among the beautiful lanterns of the GloWild season, have snacks, enjoy hot beverages and rides and end the evening celebrating the new year with your friends and family.  This family-friendly event will help you welcome the new year with brightness and fun! 
Join the wildest New Year's Eve party in the City with a live DJ, games and prizes. 
Café Africa on December 31, 2022, from 5:30pm -8:30pm.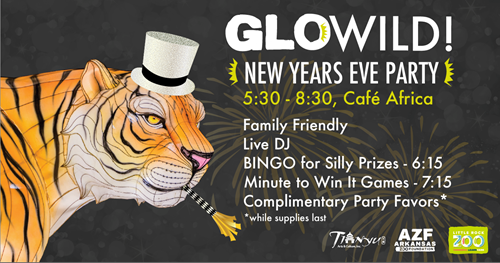 * Please confirm directly with the promoter or box office to ensure event details have not changed.
Stay Informed!
Enewsletter Sign-Up
Sign up to stay up-to-date on the latest zoo news, upcoming events and deals.